You know you live in Canada when....
You find it difficult to explain "milk in a bag" to non-Canadians

You know how to properly pronounce out and about 

You can't surrvive without Timmies 

 You have the tendancy to say "eh" after every sentance. 
You Know the Difference of " Colour + Color " Or " Favourite + Favorite " or " Centre + Center"
You know the French equivalents of "free", "prize", and "no sugar added", thanks to your extensive education in bilingual cereal packaging
 You know what a loonie or toonie is 
 You drive on a highway, not a freeway. 
 You drink pop, not soda.
 You watch MuchMusic constantly
Its called a WASHROOM not a lavatory or powder room or rest room.
 You are in grade 12, not the 12th grade
 You know how to pronounce and spell "Saskatchewan". 
 you know what capris are
 You understand the sentence, "Could you please pass me a serviette? I just spilled my poutine."
You talk about the weather with strangers and friends alike. 
 Back bacon and Kraft Dinner are two of your favourite food groups.
Tim Horton's. Enough said.
 You constantly apologize for things, even if they aren't your fault.
You think -10 C is mild weather.
You know what a " double - double " is.
You start your car 30 minutes before you use it 

Everything is labeled in English and French.

"Eh?" is a very important part of your vocabulary and more polite than, "Huh?

You know hockey was truly born here.

You know the ingredients for poutine.

Someone accidently stepped on your foot. You apologize.

 

You measure distance in hours

You are proud to pour ketchup on anything.

You say poutine the right way.

You actually get these jokes.
I found this on google and I thought it was pretty funny :) No offense is to be taken!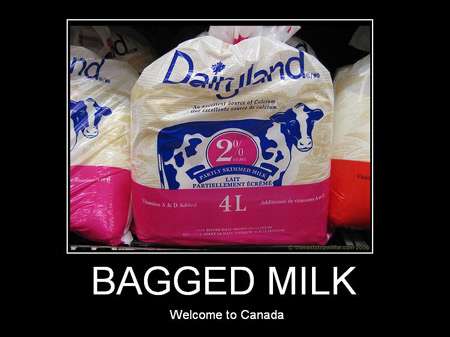 ---
---
Trackback